Glacier velocity
Baltoro Glacier / Karakoram:  
A drawback of optical data is its dependency on cloud-free conditions and daylight. However, SAR data like Sentinel-1 allows continuous monitoring of the glacier surface velocity throughout the year and hence the observation of short-term surface velocity changes. The animation below shows the surface velocity of Baltoro Glacier (Karakoram) from December 2014 to July 2016 based on Sentinel-1 using the SAR offset intensity tracking (Wendleder et al., 2018; Friedl et al., 2018). The higher summer glacier velocities are evoked by ice mass build-up due to strong winter precipitation and melt water-availability during the melt season. Though, the downstream extensions of summer acceleration which occurs since 2015 may be explained by additional water draining from an increased number of supraglacial lakes through crevasses that have been formed in consequence of higher initial velocities, evoked by strong winter precipitation.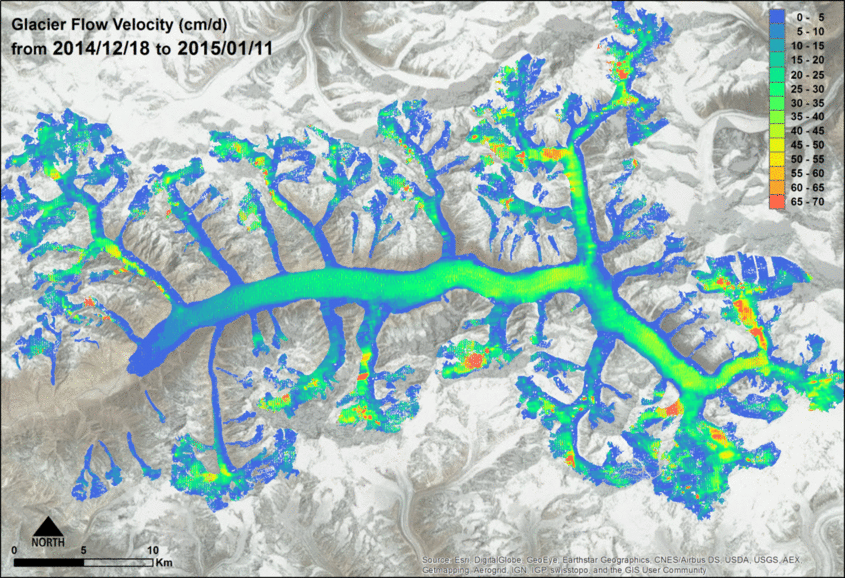 Wendleder, A.; Friedl, P.; Mayer, C. Impacts of Climate and Supraglacial Lakes on the Surface Velocity of Baltoro Glacier from 1992 to 2017. Remote Sens. 2018, 10, 1681.
Friedl, P.; Seehaus, T.C.; Wendt, A.; Braun, M.H.; Höppner, K. Recent dynamic changes on Fleming Glacier after the disintegration of Wordie Ice Shelf, Antarctic Peninsula. Cryosphere 2018, 12, 1347–1365.
__________________________________________________________________________________
Everest region
Glacier velocity derived from feature tracking on two Sentinel-2 satellite images (2016 and 2017). As glaciers thin, their lower parts generally become increasingly stagnant and flatter, which can allow meltwater to pool on the surface.
Velocity data derived using Sentinel-2 imagery. Glacier outlines: RGI Consortium (2017). Randolph Glacier Inventory – A Dataset of Global Glacier Outlines: Version 6.0: Technical Report, Global Land Ice Measurements from Space, Colorado, USA. Digital Media. DOI: https://doi.org/10.7265/N5-RGI-60
Glacier flow observed on Ngozumpa Glacier from two Sentinel-2 images (2016 and 2017)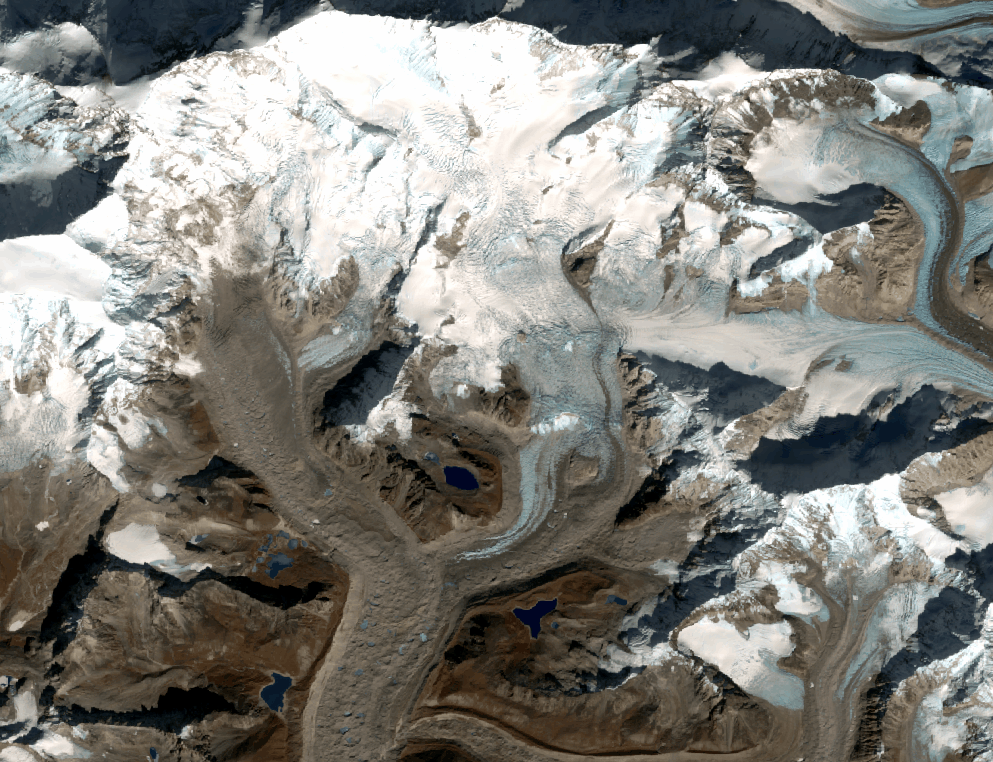 Contains modified Copernicus Sentinel data (2017)
Central Himalaya
Click to view the interactive map
Velocity data derived using Sentinel-2 imagery (2016-2017). Data are shown at 100 m resolution to reduce page loading time. Velocities were post-processed but may contain local blunders.
Glacier outlines: RGI Consortium (2017). Randolph Glacier Inventory – A Dataset of Global Glacier Outlines: Version 6.0: Technical Report, Global Land Ice Measurements from Space, Colorado, USA. Digital Media. DOI: https://doi.org/10.7265/N5-RGI-60